---
---
"Crazy Horse dreamed and went into the world where there is nothing but the spirits of all things. That is the real world that is behind this one, and everything we see here is something like a shadow from that one." ~Black Elk


In stock items now available for immediate shipping on ETSY unless specified as MADE TO ORDER!! Check it out!! FreedomGallery store.

---
Egret
"Egrets are associated with peace and harmony by many tribes, and play the role of mediator or wise elder in some legends. In southern tribes like the Cherokee, egret feathers were associated with peace and were worn by diplomats and ball players (as opposed to eagle feathers, which were worn by warriors.)"~native-languages.org
Polar Bear
Strenth, Solitude
$955
River Otters Harvesting Wild Rice
A traditional staple food of the Ojibway, wild rice is harvested in the fall. This is done by a pair, with the person in back poling a canoe through the shallow water while one up front uses a pair of 'knockers' to bend the grass over the canoe and gently knock the ripe grains into the boat. River Otters represent joy and frivolity, though they have been known to work on occasion.
$1800
Occasionally, I am commissioned to memorialize people's pets. This is RED. He is a Xmas present for his human partner. The customer was very happy with him. Red was real fond of carrots and herding the neighbor's cows when he was bored.

All pieces are approximately 20 inches tall.
Black Elk
Black Elk Manitou is inspired by the famous Lakota holy man. Medicine, Watchfulness. If you've ever read 'Black Elk Speaks',
there's a great story in there of how he travels across the Atlantic Ocean and back on a cloud. This is a really great piece to experience in person!!
$975

Barn Owl
Barn Owl is a totem of Secrecy and Magic. Adorned in celestial symbols, Barn Owl carries a bundle of sage for protection and
warding, and a Spiderweb Charm to assist in dreaming a better world into existence.
$945

Gamble's Quail
Quail represents living close to the earth and the ability to blend into the environment...also peaceful solutions to peril.
$945
Black Bear
From a clan of protection, Black Bear is a totem of Power and Strength. With geometric and woodland designs, bear is
playing a traditional flute used for courting the woman of his fancy. He is also very handsome!
$945

Short Horned Lizard
Permanence, longevity. Exposing lies and deceit.
$1150

New Magpie
(More about Magpie in Gallery 4)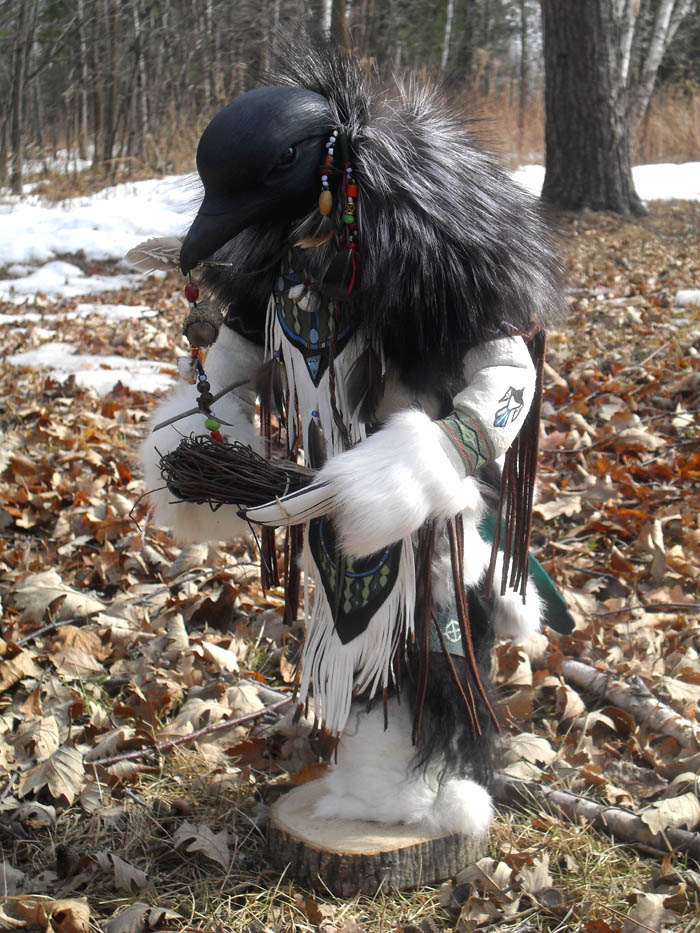 A totem of Prophecy. Magpie also likes to collect things and stash them in his or her nest!
"One for sorrow, two for joy..."
$975
---
Recent Bobcat Sightings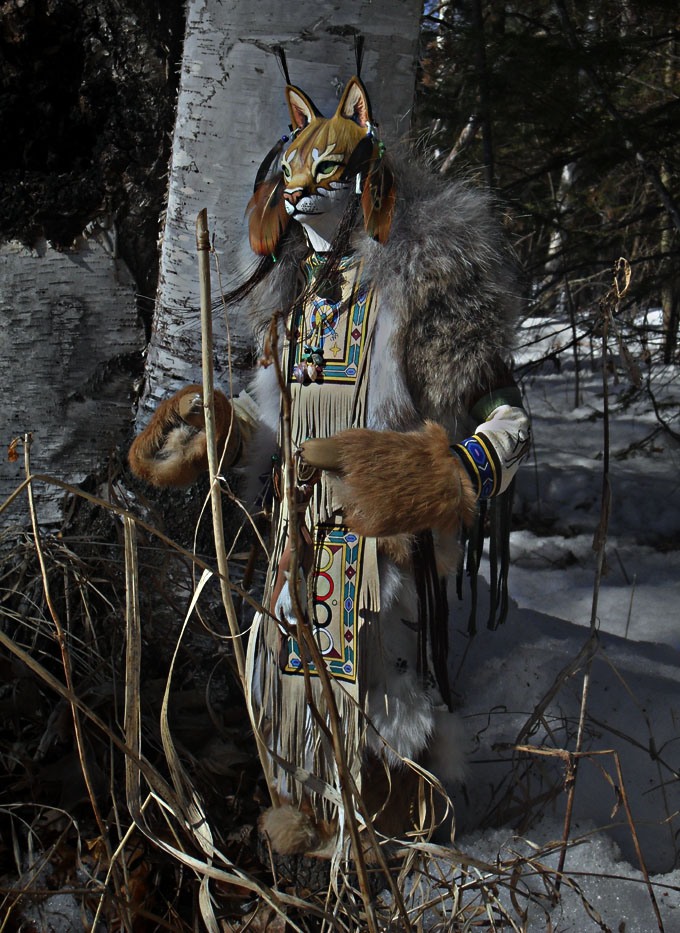 Ability to live in solitude. Clear vision in dark places. Seeing through masks. Suspicion.
I played with this picture in photoshop to give the impression of moonlight. I think it better captures the feeling of the Bobcat as being an elusive creature of the night.
$945
---
Black Wolf
Protection, Defense
$945
Fill out your e-mail address
to receive our newsletter!
E-mail address:
For More Information Contact:
Kevin Gadomski
75671 Twin Oaks Road Finlayson, MN 55735

Email: keving@northlc.com