< >
<>



"Great soul and integral art can do just that, can hit you with such profound presence that it takes your breath away, takes time itself away, takes space and flings it to eternity, opens you to the deepest and highest and most radiantly shimmering spaces of your own soul, all at once and just like that. You come away from such art just a little bit better than you were a moment ago, you see a little bit more, you feel a little bit more, you know yourself a little bit better, you touch others a little more intimately, you awaken a fraction more toward your own infinity…." ~Ken Wilber, Foreword to Eyes of the Soul by Philip Rubinov Jacobson


---

The First Americans
http://freedomgallery.wordpress.com/2012/08/26/the-solutreans/
[ Gallery 1 ] [ Gallery 2 ] [ Gallery 3 ] [ Potluck/Music ] [ Mystery Page ] [ Pricelist ]
---
A series of interesting coincidences, requests, as well as my travels in the UK have inspired a turn of design for this Magpie. With most of my gene pool residing in what was once called Gaul, I guess it's really not that surprising that something Celtic would eventually make an appearance. Apparently, I'm a direct descendant of William the Conqueror (on my biological mother's side...Saint Bonnet).
As the artist (below) inadvertently responsible for the creation of this piece told me, "It's all connected!". I'm right now reading a book about Celtic Shamanism which mentions a Chippewa prophecy of Seven Fires which is the title of a book my artist friend Rod Bearcloud Berry just published. While I'm reading this same book, I start daydreaming about a song by Neil Young, and turn the page to see in clear print a reference to, you guessed it...Neil Young, the last thing I expected to see in this book. You see what I mean? Mind boggling. The tapestry is woven from a single thread.
Celtic Magpie
A totem of Prophecy and Portents
$1095
"oh my God- they continue to be so beautiful
I took your magpie picture and put it up with your insight on the door
of my office- giving you credit - It is a lesson to all those who
communicate with patients
I really want another one- you are sooooooooo talented- it is amazing" ~ LEAH K
---
Magpie Story
Owl spoke to Magpie, "Magpie you talk so much you do not hear the wind and the water. You do not hear the Wolf who speaks to you. Your truth is all part of others' truths and you have lost your thread that connects you to the tree of life."
Magpie was as quiet as he had ever been, he listened and he felt pain and knew that he must change his ways and start to learn his own truth.
Was it so bad to be a Magpie? No! He decided it was good to be Magpie, and he would not have to explain himself to others as to who he was and why.
Upon that realization he started to listen, he heard the water and the wind and all the other beautiful things he had not taken the time to hear. He heard the Wolf and was happy.
Magpie spread his wings and flew and became the Eagle. He did not have to speak again as his flight said it all." ~unknown
---
---
Golden Wolf
If you have a few minutes, be sure to check out the unbelievable illustrations of my friend Christy 'Goldenwolf' Grandjean. She's created a banner for me. How lucky am I!?!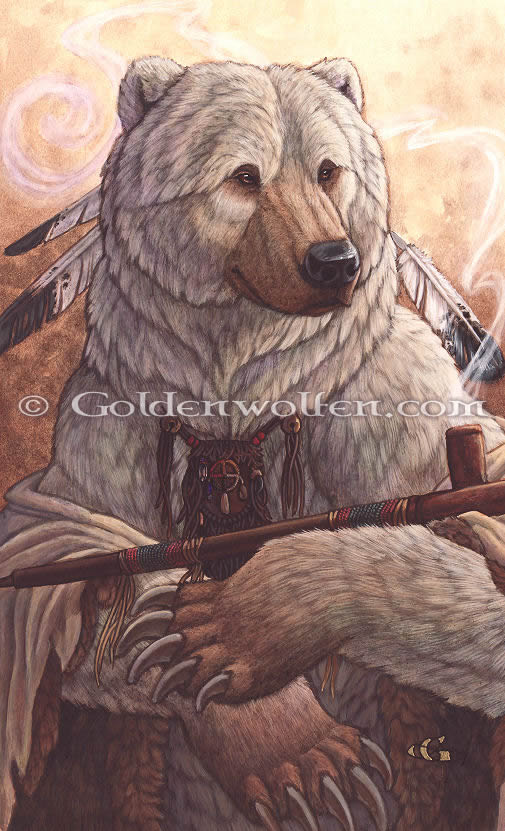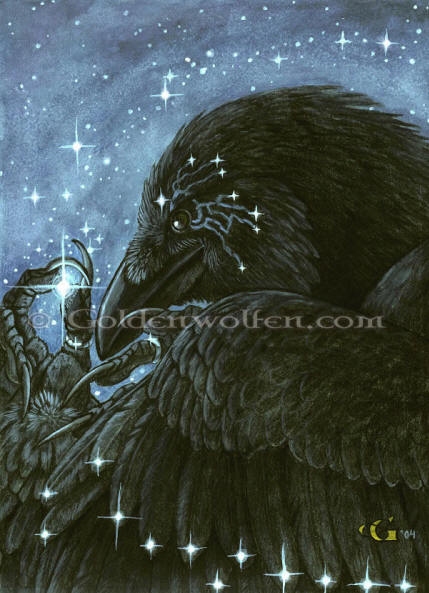 Hi Kevin!

I was walking through Portland airport in September when I discovered your Osprey standing on a shelf in a Native American-themed gallery. I was completely taken by its majesty, its sense of self-knowing. This doesn't happen to me very often; I'm an artist myself and I spend a good part of my time trying to find new artists to showcase at our festival, Faerieworlds (http://www.faerieworlds.com/). I have seen many "doll artists" in my time but your work is somehow "alive" and I had a hard time putting the Osprey down.

I was in England for a few weeks immediately after that, and in that time, I forgot your name. I searched the web for a while but gave up until this morning, when I found your work again on eBay of all places. I was looking for "carved crows" and there was your Crow doll looking back at me. I looked you up on Google and finally found your website.

The pictures on your website are deceiving; although they give a good idea of the overall composition of your work, the immaculate fine detail and craftsmanship is hard to see "up close" in your photos. If I hadn't seen your Osprey in person, I wouldn't know just how perfect these creations really are, down to the last stitch and highlights on the eyes. Do you plan to take new photos soon? A handful of photos for each figure would be fantastic (front, back, side, three-quarter face, closeup), and really helpful for folks who haven't experienced your wonderful works of art in person. If you're ever interested, I design websites for artists whose work I really admire, and I usually just work out a trade instead of charging any money. We can talk more about that later if you want to know more about it.

I'm wondering if you've ever delved into the world of Celtic/Welsh/Pagan myth...during my stay in southern England (on Dartmoor), I heard a Barn Owl shriek at the full moon on the night of my arrival; later I found evidence that the owl was living in the barn attached to the cottage I was sleeping in...I envisioned a Barn Owl spirit incorporating spirals, crescent moons, antlers, oak leaves, acorns, etc... Have you ever done anything like this? Would you be interested in giving it a go?

I've attached some of my own paintings and my first doll project to this email. Yes, I am in love with birds...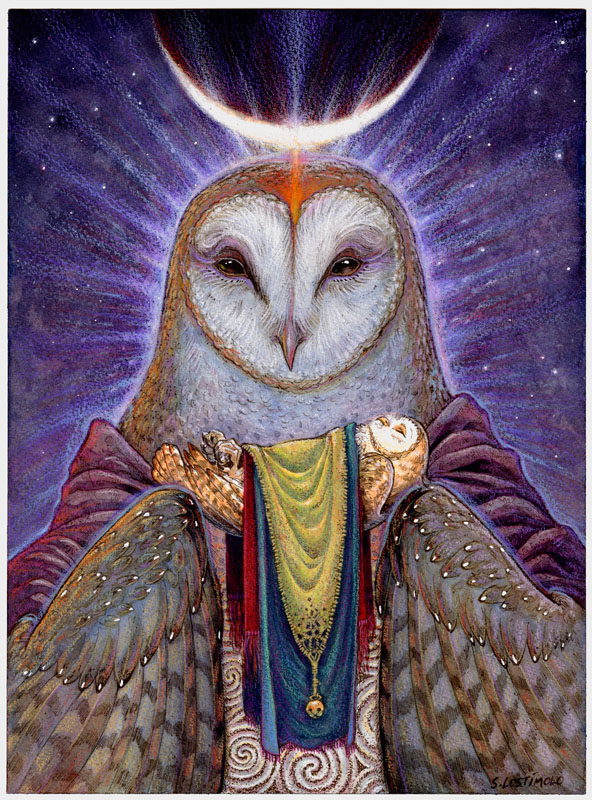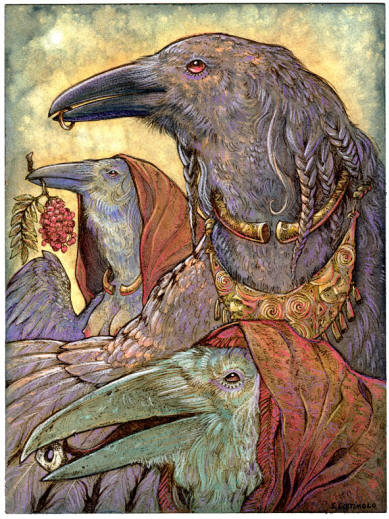 Oh...almost forgot...is the Harrier (with World Tree) still available? I love it...

Thank you for your time, and for the wonderful work. You're an inspiration to me!

With respect,
Stephanie
Nethersphere
---
"Ha! Kevin, well met indeed! I saw your excellent artwork posted on a friend's page...fantastic! Great to make your acquaintance!"
Ari Berk is an award-winning writer, folklorist, artist, and scholar of literature, iconography, and comparative myth.

---
"Kevin, Thank You for sharing your wonderful talent with the world" ~
Marlo Morgan
, author of international best seller Mutant Message Down Under.
---
Novelist Jane Lindskold writes, "I don't remember anymore what brought me to the Santa Fe Plaza that particular day. I do remember how I felt when he caught my eye: that cool, focused amber gaze above the smiling mouth with its ironical twist made me pull up short. Coyote, the Trickster who stole fire...
Afterwards, the piece haunted me far more than a sculpture less than two feet high should be able to haunt anyone."
Hi Kevin,
A friend of mine recently discovered some of your work and shared a link with me because she knew I'd fall in love with your pieces… she was right! I just had to message you and tell you how truly breathtaking your creations are. Each piece is stunningly unique. It is quite apparent that you are a true master and create with your heart and a deep reverence for the spiritual realms. Artists like you truly take my breath away and put me in an awe inspired state. Thank you for making my day much more mystical… I look forward to following your work in the years to come. Keep on doing what you're doing… you're making the world a more beautiful place.
---
Lone Wolf
"Hi Kevin. When I saw your totems in Houston they stopped me in my tracks and I knew I had to have one. You do unbelievable work and I know that I will become a collector!" Jeff Thornton is the owner of Lone Wolf Entertainment, providing entertainment for the troops overseas with acts like Queensryche and Deep Purple. Cool, huh?
---
"Kevin - I received the bobcat today and I could not help myself - I had to bring it to my girlfriend. She was absolutely blown away and breathless and almost in tears. It is so exquisite. It was exactly what she wanted. I also am in awe of the level of detail, the colors, and the beauty of this piece. You are a truly talented artist and these works are completely unique. Thanks so much for your efforts."~ Bill N.F.
"OMG!!!!!!! My husband and I saw about a dozen of these totems in Santa Fe today….they are about the most beautiful things we've ever seen. We were going absolutely nuts over the white wolf and the arctic fox. INCREDIBLE!!!!!" ~Irene S.
"When I first came across your shop I was amazed. Your pieces are incredible to say the least. Much Spirit, very powerful. Wado (thank you in Cherokee) for sharing your gift."~ Candy
"Thank you for being so inspiring...your creations are so unique and so life like...kept on expecting them to turn and speak to me through the computer...feel very connected to them..beautiful." ~Davina
"Kevin, I am seriously in love with your beautiful art. You are actually my favorite of my (Etsy) favorites!! ~Deborah
"Made with so much love and care, your work is museum quality. Why not have images of all your pieces up on the Etsy site with a SOLD sign...that way we still at least get to see your wonderful inspiring magical work!!" ~Star Crystal Keeper
"I can not explain it but the Manitous touch me in a way I don't understand." ~Mary M
---
Hi Kevin,
The Manitous arrived yesterday. They are amazing. The energy immediately shifted in the room. Both Black Elk and White Buffalo bring a huge amount of grounding with them. At the same time I'm ready to take off with Peregrine. I love the dynamic of his form. Thank you for such beautiful pieces. I've posted you on my website in "News and Events". I have to ask my website person why the website addresses aren't standing out very well - am a newbie posting on that so she'll help me fix it I'm sure.
Thank you again.
Peace and blessings,
Cathy
Cathy Wells
TTouch Certified P-1
Animal Communication
802.985.2304
www.commonheart.net
"All species are connected and all Beings Matter"

---
Kevin Gadomski
75671 Twin Oaks Road Finlayson, MN 55735

Email: keving@northlc.com